Rajasthan (Jaipur)
| Particulars | Description |
| --- | --- |
| Area | 3,42,239 sq. km |
| Population | 6,86,21,012 * |
| Capital | Jaipur |
| Principal Languages | Hindi and Rajasthani |
---
History and Geography
Rajasthan, area-wise the largest State in India area-wise prior to Independence was known as Rajputana. The Rajputs, a martial community ruled over this area for centuries.
The history of Rajasthan dates back to the pre-historic times. Around 3,000 and 1,000 BC, it had a culture akin to that of the Indus Valley civilisation. The Chauhans who dominated Rajput affairs from seventh century and by 12th century they had become an imperial power. After the Chauhans, the Guhilots of Mewar controlled the destiny of the warring tribes. Besides Mewar, the other historically prominent states were Marwar, Jaipur, Bundi, Kota, Bharatpur and Alwar. Other States were only offshoots of these. All these States accepted the British Treaty of Subordinate Alliance in 1818 protecting the interest of the princes. This naturally left the people discontented.
After the revolt of 1857, the people united themselves under the leadership of Mahatma Gandhi to contribute to the freedom movement. With the introduction of provincial autonomy in 1935 in British India, an agitation for civil liberties and political rights became stronger in Rajasthan. The process of uniting scattered States commenced from 1948 to 1956 when the States Reorganisation Act was promulgated. First came Matsya Union (1948) consisting of a fraction of states, then, slowly and gradually other states merged with this Union. By 1949, Major States like Bikaner, Jaipur, Jodhpur and Jaisalmer joined this Union making it the United State of Greater Rajasthan. Ultimately in 1958, the present State of Rajasthan formally came into being, with Ajmer state, the Abu Road Taluka and Sunel Tappa joining it.
The entire western flank of the State borders with Pakistan, while Punjab, Haryana, Uttar Pradesh and Madhya Pradesh bound Rajasthan in north-east, south-east and Gujarat in south-west.
---
Agriculture
Total cultivable area in the State is 219.46 lakh hectares. and estimated food grain production was 123.59 lakh tones in the year 2009-10. Estimated total cultivated area in the State was 245.38 lakh hectare and estimated food grain production was 201.45 lakh tonnes in the year 2010-11. Principal crops cultivated in the State are rice, barley, jowar, millet, maize, gram, wheat, oilseeds, pulses and cotton. Cultivation of vegetables and citrus fruits such as orange and Malta has also picked up over last few years. Red chillies, mustard, cumin seeds, Methi and Hing are commercial crops of the State.
---
Industry and Minerals
Endowed with a rich culture, Rajasthan is also rich in minerals and is fast emerging on the industrial scenario of the country. Some of the important Central undertakings are Zinc Smelter Plant at Devari (Udaipur), Copper Plant at Khetri Nagar (Jhunjhunu) and Precision Instrument Factory at Kota. Small-scale industrial units numbering 3.49 lakh with a capital investment of Rs.12552.50 crore provide employment to about 14.90 lakh persons in the States as on March 2011. Major industries are textiles and woolens, engineering good, Electronic items, Automobile, food processing, Gems and Jewellery, Cement, Marble slabs and tiles, glass, Oxygen, Zinc, fertilizers, railway wagons, ball bearings, water and electricity metres, sulphuric acid, handicraft items, television sets, synthetic yarn, Ceramic, Insulator, Stainless steel, Re-rolling, Steel Foundry and insulting bricks. Besides, precious and semi-precious stones, caustic soda, calcium carbide, nylon and tyers, etc. are other important industrial units.
Rajasthan has rich deposits of zinc concentrates, emerald, granite, gypsum, silver ore, asbestos, feldspar and mica. The State also abounds in Export Promotion Industrial Park of country has been established and made operational at Sitapura (Jaipur), Boranda (Jodhpur) and Bhiwandi (Alwar). Inland Container Depots have established in Jaipur, Bhilwara, Jodhpur, and Bhiwandi (Alwar) to promote the exporters. Special Economic Zone for Gems and Jewellery at Sitapur (Jaipur) and for Handicrafts at Boranada (Jodhpur) have been established, and multipurpose special Economic Zone "Mahendra World City" has been established in PPP model at Jaipur.
---
Irrigation
By the end of March 2011 irrigation potential of 37.51 lakh hectare was created in the State through various major, medium and minor irrigation projects . During the year 2010-11 (up to March, 2010-11) additional irrigation potential of 38,444 hectares (including IGNP) was created.
---
Power
The installed power capacity in the State has become 9188.22MW up to March, 2011 of which 4097.35 MW is produced from the State owned projects, 972.92MW from collaboration projects, 2240.23 MW from the allocation from Central power generating stations, 1607.70 MW from Wind, Solar and Biomas Projects and 270 MW from Private Sector Projects.
---
Transport
Roads: The total length of roads was 1,88,534 km as in March, 2011.
Railways: Jodhpur, Jaipur, Bikaner, Kota, Sawai Madhopur and Bharatpur and Udaipur are main Railway junctions of State. Total length of Railway line is 5683.01 Km. in the State as on March, 2008.
Aviation: All eminent cities are connected with Jaipur airport under domestic air services in which Delhi, Mumbai, Ahmedabad, Kolkata, Chennai, Hyderabad, Bengaluru, Pune and Guwahati are important domestic air services. International air services are also available for Dubai, Mascutt and Sharjah from Jaipur airport.
---
Festivals
Rajasthan is a land of festivals and fairs, besides the national festivals of Holi, Deepawali, Vijayadashmi, Christmas, etc., birth anniversaries of gods and goddesses, saintly figures, folk heroes and heroines are celebrated. Important fairs are Teej, Gangaur (Jaipur), annual Urs of Ajmer Sharif and Galiakot, tribal Kumbh of Beneshwar (Dungarpur), Mahaveer fair at Shrimahavirji in Sawai Madhopur, Ramdeora (Jaisalmer), Janbheslwari fair(Mukam-Bikaner), Kartik Poornima and Cattle Fair (Pushkar-Ajmer) and Shyamji Fair(Sikar), etc.
---
Tourist Centres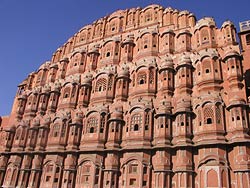 Hawa Mahal, Jaipur
Jaipur, Jodhpur,Udaipur, Bikaner, Mount Abu (Sirohi), Ranthambore National Park (Tiger Reserve), in Sawai Madhopur, Sariska Tiger Sanctuary in Alwar, Keoladeo National Park at Bharatpur, Ajmer, Jaisalmer, Pali and Chittorgarh, Bundi, Kota, Jhalawar and Shekhawati are important places of tourist interests in the State.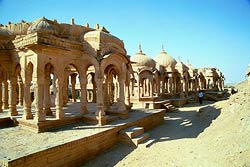 Deserts of Jaisalmer
The medieval fortress town of Jaisalmer rises out of the remote deserts of Rajasthan, like a city at the very end of the world. According to mythology, after the epic battle of the Mahabharata, Lord Krishna and the Pandav hero, Bheem, came here for a ceremony.
---
* As per 2011 Census (Provisional Data)
Union Territories
* S (Summer) and * W (Winter)