Republic of India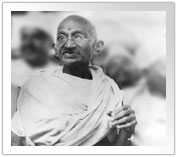 Mahatma Gandhi
Though India became a free nation on August 15, 1947, it declared itself a Sovereign, Democratic and Republic state with the adoption of the Constitution on January 26, 1950.
A salute of 21 guns and the unfurling of the Indian National Flag by Dr. Rajendra Prasad heralded the historic birth of the Indian Republic on that day. Thereafter 26th of January was decreed a national holiday and was recognised as the Republic Day of India.
The Constitution gave the citizens of India the power to choose their own government and paved the way for democracy. Dr. Rajendra Prasad took oath as the first President of India at the Durbar Hall in Government House and this was followed by the Presidential drive along a five-mile route to the Irwin Stadium, where he unfurled the National Flag.