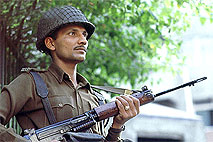 The Government of India is responsible for ensuring the defence of India and every part thereof. The Supreme Command of the Indian Armed Forces vests in the President. The responsibility for national defence rests with the Cabinet. This is discharged through the Ministry of Defence, which provides the policy framework and wherewithal to the Armed Forces to discharge their responsibilities in the context of the defence of the country. The Indian Armed Forces comprise of three divisions – Indian Army, Indian Navy, and the Indian Air Force.
Check more important links.
Indian Army
The Indian subcontinent had witnessed the cohesive concentration of many Empires in the quest for control of military power, and governance of the State. As time rolled by, societal norms found an ethos in the workplace, the system of rights and privileges, and service under the flag.
The Indian Army, as we know it today became operational after the Country gained independence from British colonialism. The Indian Army's HQ is located in New Delhi and functions under the Chief of Army Staff (COAS), who is responsible for the command, control, and administration as a whole. The Army is divided into six operational commands (field armies) and one training command, each under the command of a Lieutenant General, who has an equal status to the Vice-Chief of Army Staff (VCOAS), working under the control of Army HQ in New Delhi.
More about the Indian Army .
Indian Navy
The foundation of the modern Indian Navy was laid in the seventeenth century when the East India Company had established a maritime force, thereby graduating in time to the establishment of the Royal Indian Navy in 1934. The Headquarters of the Indian Navy is located in New Delhi, and is under the command of the Chief of the naval staff – an Admiral. The Indian navy is deployed under three area commands, each headed by a flag officer. The Western Naval Command is headquartered in Bombay on the Arabian Sea; the Southern Naval Command in Kochi (Cochin), in Kerala, also on the Arabian Sea; and the Eastern Naval Command in Vishakhapatnam, Andhra Pradesh, on the Bay of Bengal.
More about the Indian Navy .
Indian Air Force
The Indian Air Force was officially established on 8th October 1932, and on 1st April 1954, Air Marshal Subroto Mukherjee, one of the founding members of the Air Force took over as the first Indian Chief of Air Staff. With the passage of time, the Indian Air Force undertook massive upgrading of its aircraft and equipments, and as part of the process, it introduced more than twenty new types of aircrafts. The last decade of the twentieth century saw a phenomenal change in the structure of the Indian Air Force with induction of women into the Air Force for short service commissions. It was also a time when the Air Force undertook some of the most perilous operations ever undertaken.
More about the Indian Air Force .